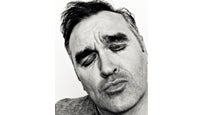 NOT RETIRING
So someone wrote an article from an interview with Morrissey in which he stated that he would retire at age fifty-five. The Guardian and other newspapers praised his willingness to gracefully step aside at this time because they considered it a graceful bow out of the music business and compared him to "less graceful" singers who are still performing past their middle years.
But the conclusions the article came to seemed so rushed and they missed the fact that he did not state that he was quitting TODAY, just that he thought fifty-five might be a good time to go. It seems to me that people need to actually READ and not just jump to conclusions thereby missing the entire point-in my class we call it THE MAIN IDEA, and from what I can tell there are a lot of people out there who need a refresher course of sophomore English!
So Morrissey released the following statement on True To You:
Morrissey would like to stress that reports of his 'retirement', as excitably earmarked by several newspapers and websites are "wishful thinking" on behalf of the writers.
To be honest, the above statement was hardly necessary as four days later, tour dates for 2012 were posted-quite an extensive list. Including one at the Staples Center in Los Angeles with Iggy and the Stooges on November 24th.
Of course, I got tickets. I got floor seating which is incredibly lucky. Several of my friends from Twitter also got floor seating so perhaps rushing the stage will be slightly easier this time?
I won't even get into how crazy the crowd is going to be. Iggy fans and Morrissey fans? Together? Will the Iggy fans even stay for the whole show? Its going to be interesting.
I find the Morrissey fans to be quite eclectic so it will be even more so!
Furthermore, I am currently debating about whether or not to go to the Chicago show. Naturally, I am leaning more on the side of going. But my friend Alicia lives there now (also my friend Anne) and I thought it would be nice to visit with them and see Morrissey. Its just the money. I have it, but not at this very moment and I desperately want laminate flooring in my condo.
I don't want to do anything that will hold me back from this project financially.
You don't want me to mention the state of our pathetic carpeting. Know that its old, know that we have had pets and kids and all manner of accidents on this carpet. Know that it MUST be unsanitary and you know why I would rather get new flooring than fly to Chicago to see Morrissey.
Its difficult to type that-it pains me-but its true. Oh, to be able to get new flooring AND see Morrissey in Chicago. But we can't have everything, can we?
Boz
A few weeks ago Roland and I went to Los Angeles to the Grand Star Jazz Ballroom in Chinatown to see Boz Boorer spin some records.
We met up with Johnny and Jasmine as well as The C/Krystals. We somehow all expected The Polecats to play and were kind of waiting around until it dawned on us that Boz was a guest DJ-not playing guitar.
He was kind enough to take a picture with me. I waved at him and he waved back from behind the computer and he leaned over so I could talk to him-I said, "Can I please take a photo with you?" He jokingly said, "No!" But I get him because I am just like that. So he came around the set and Roland took our picture. I like that his mouth is wide open like, "We are having the time of our lives." It looks more like we are on a roller coaster ride rather than at a club.
Other than seeing Boz and hanging out with my LA Morrissey crew, the next best thing were the $3 vodka and cranberries. Oh! The dance floor was awesome. It had lights in it.
Oh. Another fun thing was dancing with Roland to The Smiths. Its been ages since we danced. We also danced to Madness. I used to dance all the time but I never thought I would miss it. I don't miss going out like when I was in my 30s. I miss dancing.
Decision
I decided to attend the Chicago show after all. I am not very good at passing up opportunities.
I was able to get floor seating at the Chicago Theater.
There are quite a few other people from the Twit Arms who are going and I am hoping to meet up at least just to say hi at the concert.
We leave tomorrow at 6 AM for camping so I won't be around and if this entry seems rushed just know that it is!!